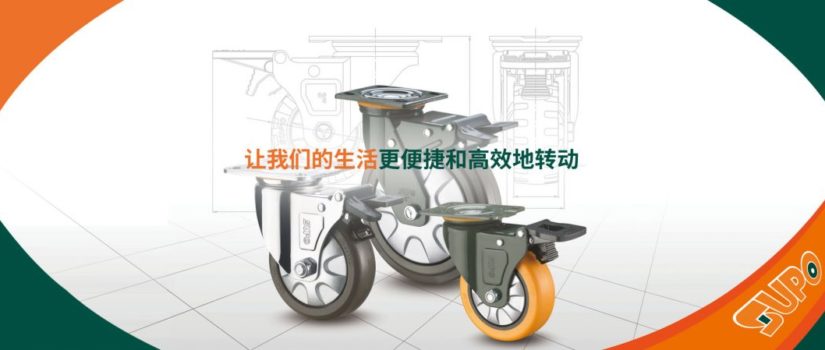 What are caster wheels used for?
The easier you can move your belongings, the better it is in a modern workplace. Wheels and castors are among the tools that help us ensure everyday mobility. These items can be attached to various equipment. They're the little wheels that allow you to move your chair, table, or luggage conveniently.
Types of Caster Wheels
You'll find castor wheels in two types. First is the swivel and second is the rigid caster wheel. The swivel caster wheel can rotate 360 degrees, which lets you move an object in any direction. You'll find this feature in tools that are used to carry a heavy load. 
The rigid caster wheel works the opposite way. Its movement is limited as it can only go backward or forward. This type of wheel is common for items that aren't intended to carry heavy loads and don't need to be transported far and often, such as chairs. 
Uses of Caster Wheels
Furniture and appliances.

Light-duty casters can be found on furniture and appliances. They're often attached to TV stands, chairs, desks, trolleys, and organising trays. A light-duty caster can be swivel or rigid, depending on the specific purpose it's serving. 
Hotels and restaurants.

You'll also find caster wheels in hotels and restaurants. The trolleys that the staff uses to take your luggage to your room are powered by caster wheels. Chairs and movable organisers also have caster wheels attached to them. Even in the kitchen, caster wheels are also widely used.

Trolley castor wheels

make it easy to move supplies where they're needed.
Containers.

Containers often carry heavy-duty casters as they carry heavy loads and are loaded to shipping containers. These types of casters sometimes come with additional features too, such as a lock, to keep them secure in one corner. Like any other application for caster wheels, various types can be used for containers. To determine the right type of caster, you need to consider the maximum load weight or capacity of the container. You can then decide afterward whether to go for one with a brake or lock. 
Manufacturing plants. Castor wheels

can also be used for heavy machineries, such as those you'll find in manufacturing plants or warehouses. Casters allow workers to move and assemble heavy parts with ease. Instead of carrying the objects manually and straining their backs, employees can simply push or pull the heavy parts. This also helps workers get more done as they don't have to worry about body pain, which then shortens the overall assembly process. 
Aircraft manufacturing.

Heavy-duty casters play an important role in the aircraft manufacturing industry. They're used for engine stands so technicians can work on the aircraft with ease. They can move and lock the stand when they need to. Casters can also be found on hangar doors and helicopter landing pads.

Industrial castor wheels

may go unnoticed, but without them, day-to-day operations will be jeopardised.
If you're not sure which type of wheels and castors to use, speak with a reputable supplier for professional help. You might even be able to negotiate packages if you're planning to purchase in bulk or are looking for a long-term partnership.