5 Pieces of Fun Food Art for Your Preschool Kid
Your kid's school lunch should always be delicious and healthy.  This a rule every parent needs to follow. But sometimes your child may not like eating it the moment he sees veggies. So, what's the best way to convince your child eat his lunch? Learn from Samantha Lee, a food artist.
Samantha Lee makes food that tell a story. A mother of two girls,  Ms. Lee started creating and posting food art on Instagram in 2008 and 2011 respectively. The idea was to help her eldest daughter eat independently. When you see her food art, you can't resist to snap a photo of it. Look at some of her works below.
1. Holiday-Inspired Lunch.
This Christmas food art is perfect for the holidays. Look how beautiful the Christmas tree was made. Your kid might be excited to eat those gift boxes under the tree.
2. The Lunch That Makes You Roar.
If your child loves dinosaurs, get inspiration from this food art. It's your kid's chance to defeat a dinosaur by eating it. Make him to say "Roar" after finishing the meal.
3. Goodbye, 2016!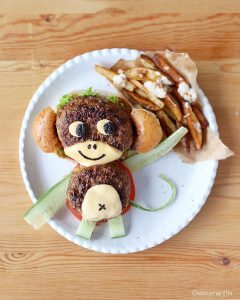 According to Chinese zodiac, 2016 is the Year of the Monkey. If you believe in Chinese beliefs, you may want to say goodbye to 2016 by preparing this meal for your kid.
4. Grab a Taxi.
Does your child love egg? If yes, why not make something creative today? This taxi food art is an egg dish with other healthy ingredients.
5. Spidery Pasta!
Most kids love pasta. But how would your kid react if you'll create something like this- a pasta with a spider-like meal? Try making it one of these days and see his reaction.
See more of Ms. Lee's posts on Instagram and Facebook. You may want to view them together with your kids and let them choose which is their favourite.